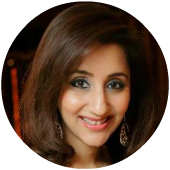 Services and Workshops
Healthy Living
Eating and Nutrition
Shaira Sakhrani
Health Coach
Shaira graduated from the Institute of Integrative Nutrition in September 2015 and learned that a person's wellbeing depends on multiple factors, such as nutrition, fitness, relationships, career, spirituality, etc amongst others. Her objective is to help you reach your potential in each of these areas and bring about a balance that will allow you to fit these pieces into your own circle of life so that you will feel wholesome – a holistic approach.
Shaira believes that coaching is extremely effective at helping anybody and everybody achieve their long and short-term goals. She will guide you towards achievable wellness goals, whether it is weight loss, eating for energy, solving your cravings or digestive issues. Her approach is one of bio-individuality. One man's medicine is another man's poison. Everyone's body, preference and lifestyle are different. The program she runs are built to suit your goals and needs.
Shaira has organized supermarket tours- helping families eat better at home; given talks at various women's, social and charitable groups aiming to educate and inform people on the importance of nutrition and lifestyle changes. With her passion in health coaching, she has helped many reach their goals and bring about a feeling of wellness and vibrancy.