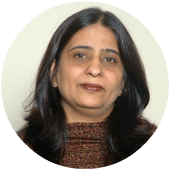 Services and Workshops
Voice of the Soul
Child Psychology
Kirti Bakshi
Counsellor, Psychotherapist and Corporate Trainer
Kirti Bakshi is a well renowned certified and practicing counsellor, psychotherapist and a corporate trainer. With over 25 years of experience, Kirti covers integrated approaches to counselling and psychotherapy using tools and techniques such as Projective Psychology, Transactional Analysis, CBT, Transpersonal Therapy, family systems processes and Indian Philosophy.
She is the pioneer of Metaphor Therapy which is the art of understanding the client through drawings, colors and their imaginations. She specializes in Family & Business Constellations which is a form of group therapy and personal development method.
Kirti is well known for her corporate workshops that she conducts across all segments for middle and senior level management in India and abroad. Besides being an experienced Child and Teenage Counselor, she conducts many popular workshops such as Parenting Reflections, Stress Management and Personal Excellence.
Kirti is the director of The Counseling Company, a faculty member of California Hypnosis Institute of India, Head of psychotherapy at Sunshine Wellness and Rehabilitation Center, panel trainer for the Indian Judicial Academy, certified trainer from Family Constellation Systems, Germany and a certified trainer from City and Guild.
Besides human psychology, her interests include the study of Indian Philosophy and creative writing.